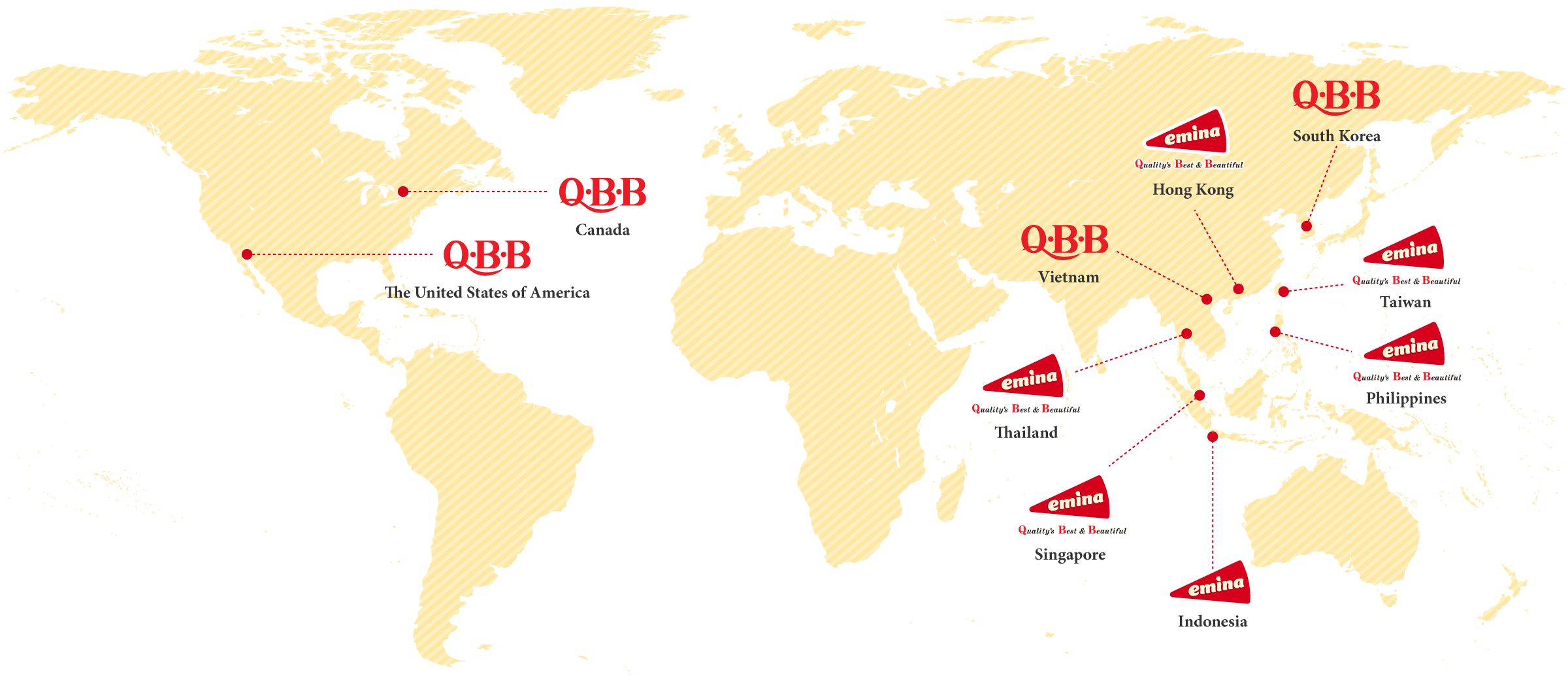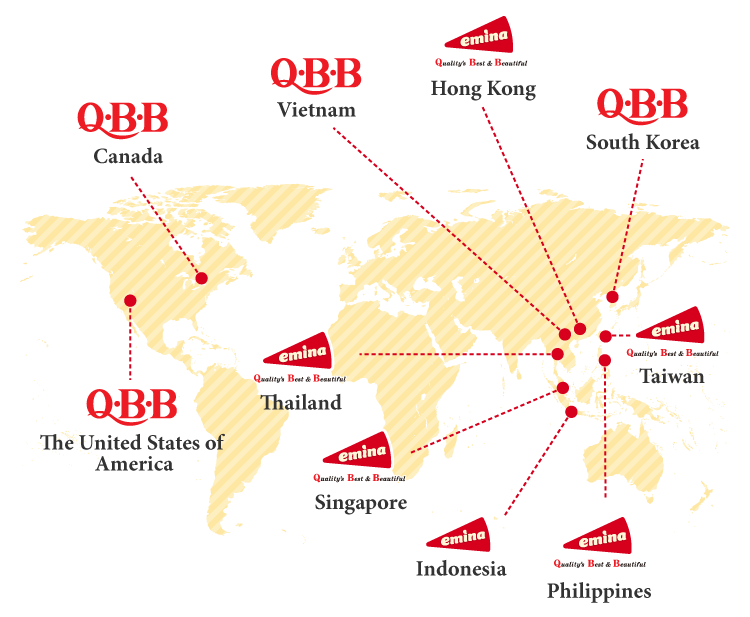 OUR BRAND
The brand name QBB is the abbreviation for Quality's Best & Beautiful, which expresses our desire to provide the highest quality and delicious-tasting products.
"Quality's Best" expresses our commitment to quality and our promise to provide safe, reliable, and healthy products.
"Best & Beautiful" refers to our pursuit of delicious-tasting products. "Delicious" represents not only taste, but also freshness, happiness, and enrichment.
In certain export countries, we operate under the brand name EMINA. Striving to bring a smile to all our customers, EMINA represents our desire to make everyone smile with cheese (in Japanese, "E"gao = smile and "MINA" = everyone).
Japan's leading manufacturer for processed cheese
The top brand for processed cheese
Cheese sales represent over 90% of our product sales and we boast the top share for processed cheese in Japan.
As a cheese manufacturer, we aggressively engage in new product proposals and we are widely recognized for our revolutionary approach to business.
We combine carefully selected cheese raw materials from Australia and New Zealand with our advanced technology to process the highest-quality products.
We offer a product line of nearly 300 cheese products, from processed cheese products for the consumer market to products for school lunch programs and commercial use.
From snacks for kids to appetizers for mom and dad and ingredients for fabulous cuisine, we offer a wide assortment of cheese products for our customers to enjoy.
(Source: INTAGE SCI Processed Cheese Market Survey, Market Revenue Share for January to December 2019)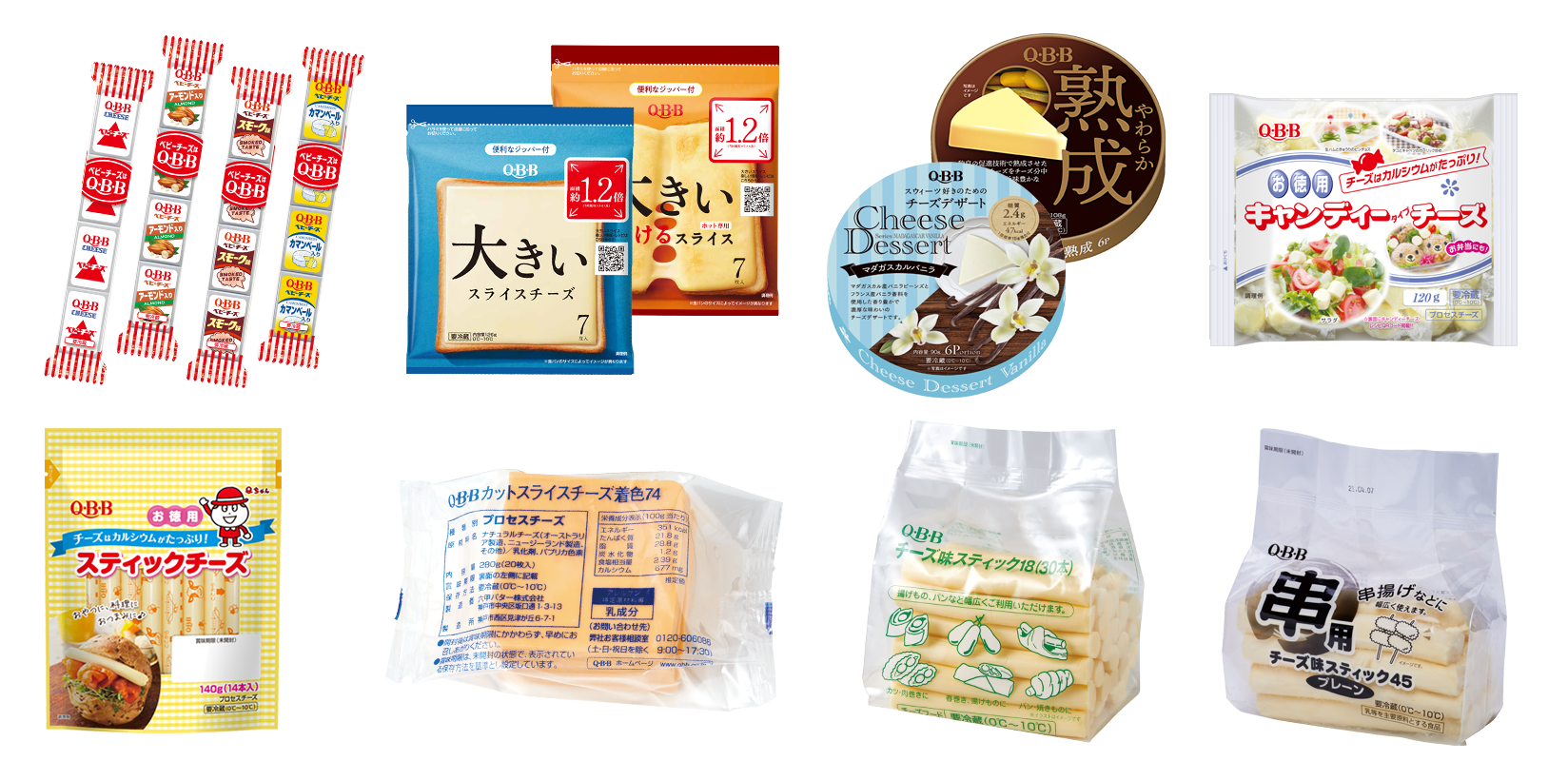 Baby Cheese is the No. 1 brand for
bite-sized cheese
With over 200 million units sold annually, our Baby Cheese line of products boasts the No. 1 market share in Japan for bite-sized cheese.
This equates to more than one packet (4 pieces) sold for each person in Japan.
These figures represent the trust customers have in our products, and a source of pride for us at Rokko Butter.
(Source: INTAGE SCI Baby Cheese (Bite-Sized Cheese) Market Survey, Market Revenue Share for January to December 2019)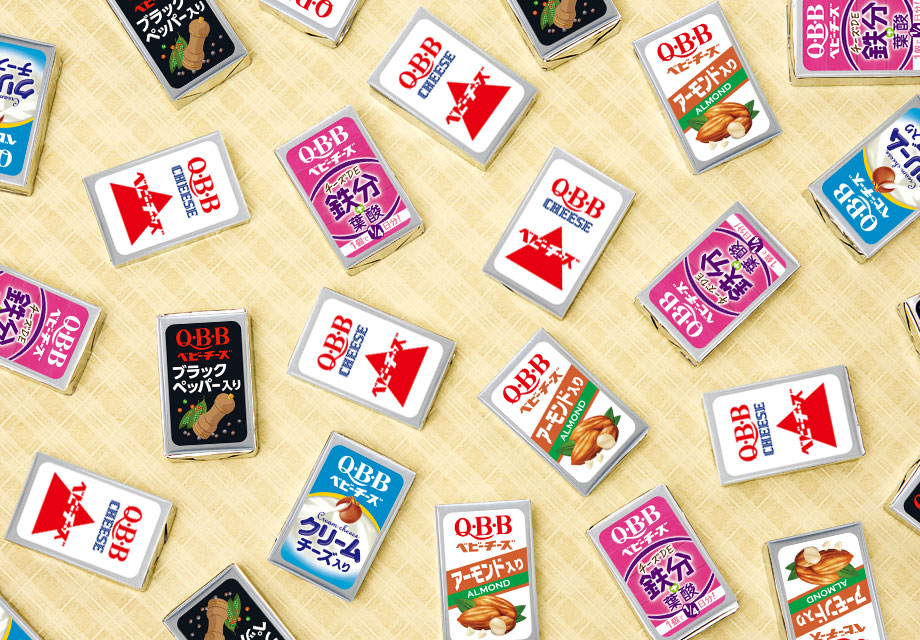 A legacy of "world's first" and "Japan's first"
We developed the world's first Stick cheese in 1960. And in 1971, we were the first in Japan to develop individually wrapped sliced cheese.
Since then, we have continued to develop numerous unique products. One of our greatest strengths is in our ability to predict market needs and engage in creative product planning and development.
New tastes, new textures, new ingredients, new ways of eating, and new forms of packaging. Throughout our history and into the future, we have always and will continue to offer creative, new products as part of our continuous pursuit of originality and innovation.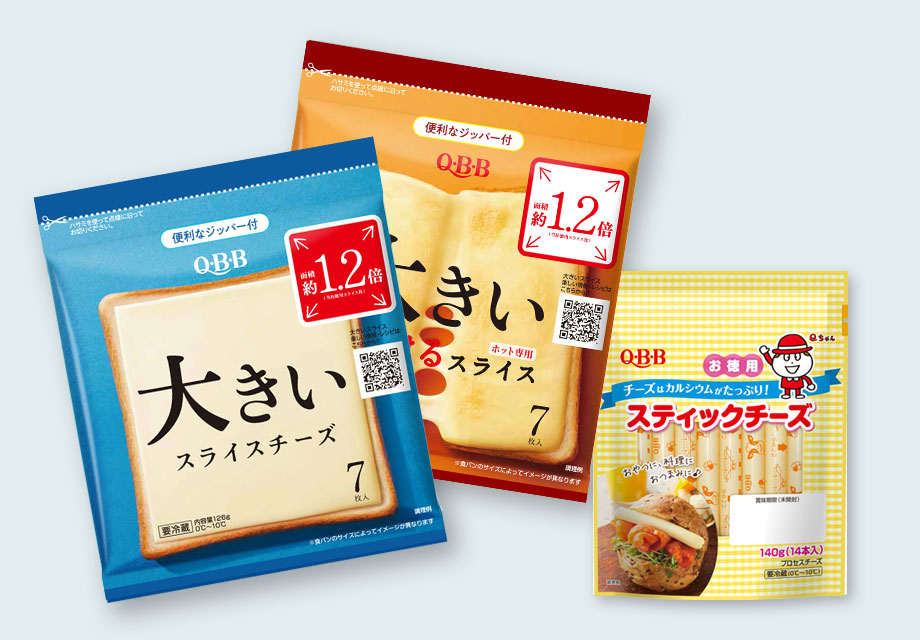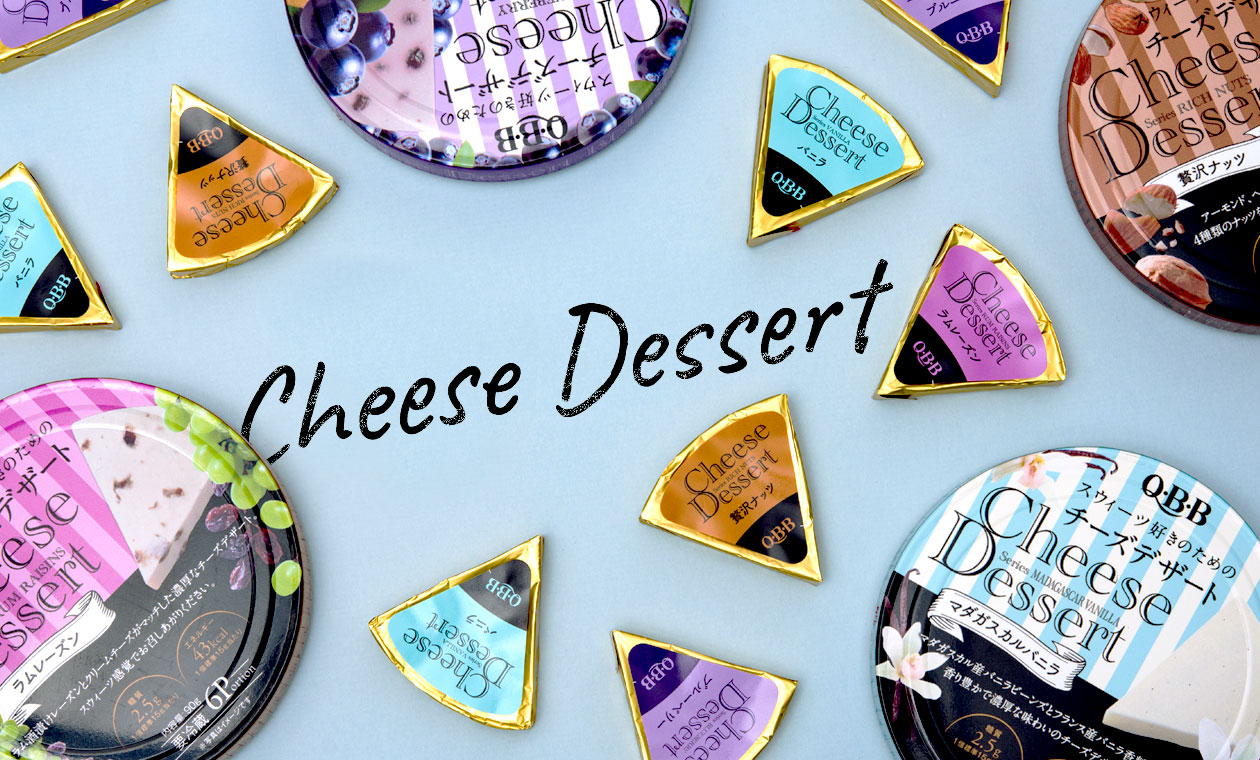 Overseas best-seller!
About our popular cheese dessert!
Product profile
A dessert-type cheese that combines fresh and creamy cream cheese with seasonal fruits and other ingredients. This new, high-quality cheese boasts the soft texture of cream cheese combined with the joy of delicious seasonal ingredients.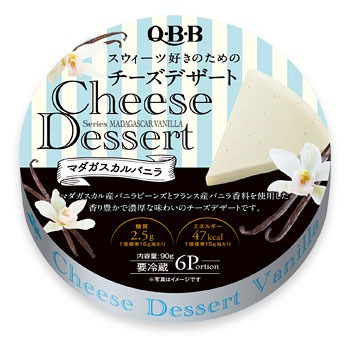 Cheese Dessert
Vanilla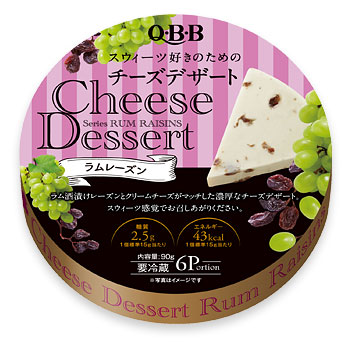 Cheese Dessert
Rum Raisins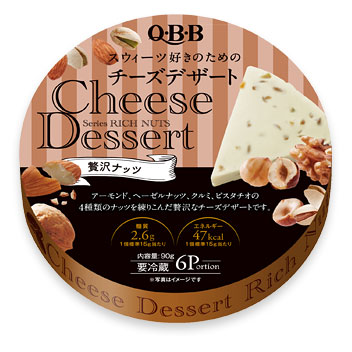 Cheese Dessert
Rich Nuts
Cheese Dessert
Rich Berry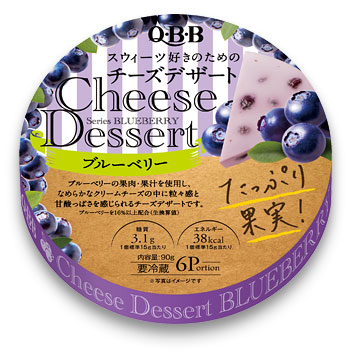 Cheese Dessert
Blueberry
OUR BUSINESS IN
INDONESIA
We established PT EMINA CHEESE INDONESIA as a joint venture with Mitsubishi Corporation in Indonesia. This factory is compliant with the hygiene and quality control structure standards we apply in Japan. The population of Indonesia is the fourth largest in the world and is approximately 90% Muslim. Because of this, we have obtained Halal certification, which certifies that our production process is compatible with Muslim teachings.